Gay pride month is an excellent time to remind London's LGBT+ and Straight community that it's always gay pride in London. The city is home to some truly wonderful gay bars and gay clubs, and if you haven't tried them, you're missing out. From gay pubs for the older crowd, to LGBT student nights, to gay porn star night on a Thursday – there's something for everyone. So, if you're gay, straight, bi, queer, lesbian, trans, fluid or identify as anything else, party proud this year and make the most of London's gay scene.
G – A – Y
@4thImpactMusic #UnleashTheDiva UK APPEARANCES G.-A.- Y Heaven London Dec 2015 pic.twitter.com/Fmmos9nBIQ

— Normy (@cool65uk) February 11, 2017
It just doesn't get gayer (or more affordable) than G-A-Y. It's great if you want to bring your straight pals along, although all-straight groups struggle. We can guarantee you'll know virtually every song played in G-A-Y – they're a big fan of the classics and to be honest, who isn't? Expect a cheap, fun, cheesy night and a great mixed crowd.
.@saaraaalto wears #leather hotpants at her first live show at the G-A-Y Club in London – HOThttps://t.co/EJBi79qy6d pic.twitter.com/LUnbpPLdN9

— CelebritiesInLeather (@celebsinleather) January 8, 2017
G-A-Y have £1.80 nights Sunday to Thursday – it's pretty self explanatory. Spirits and mixers (Vodka, Whisky, Gin, Bacardi Rum and Morgan Spice) are all £1.80. So are beers, ciders, jager bombs wine and soft drinks. You aren't going to do better than that in London.  You've got to get in before 1am, but once you're in you get free entry to G-A-Y Lates. That's pretty much the same thing again, but later.
HEAVEN
More photos HQ: Nicole Scherzinger performs on stage at G-A-Y club night at Heaven in London http://t.co/CSHgEfI3xU pic.twitter.com/GLXHZE3j05

— Portal Nicole (@PortalNicole) July 13, 2014
Heaven is Legendary. It's been a pioneering gay venue in London since 1979, and it continues to be one of the most popular gay venues in the capital. Celebrity fans like Joy Division and Throbbing Gristle give this bar a special edge. Gay Porn Star night on a Thursday is definitely not one to miss, if you can handle it. We won't spoil, but it's not one for the faint hearted.
The Friendly Society
The Blue Room at the Friendly Society bar #soho #London #discodown pic.twitter.com/cVeQjdQUC6

— Friendly Society Bar (@friendly_soho) August 7, 2016
This open bar is a crowd favorite among London's LGBT+ community. It's worth a visit just for the trippy wonderland decor – gnome stools, barbies on the ceiling and unusual wallpaper. They're a big fan of the classics too, so expect Frank Sinatra and 80s grove. Drinks are pretty standard London prices, but it's a great crowd and a cool place to spend an evening.
The friendly society. The best ceiling decoration in London? pic.twitter.com/pZCfkiZ5dN

— Flora Williamson (@Flo_williamson) August 26, 2016
The Yard Bar
Historic London gay bar The Yard has finally been saved from redevelopment: https://t.co/3VNHGmjTrR pic.twitter.com/nyxTgANPzB

— Attitude (@AttitudeMag) August 17, 2016
This is your perfect gay bar in London to spend a summer evening in. Have a cocktail outside in the lively courtyard, complete with fountains and stone sculptures. There's a more relaxed bar upstairs if you're looking for a more relaxed vibe. The Yard Bar is actually a pretty affordable gay bar, with 2-5-1 cocktails at happy hour and a bottle of wine and tapas for £15.
London gay bar The Yard faces fresh threat http://t.co/7qSkVn3LtT via @gaystarnews pic.twitter.com/liBAHNZAou

— Yard_Soho (@Yard_Soho) September 24, 2015
Comptons of SoHo
Thanks for a Great Pride everyone! @KXSteelers #PrideLondon2017 #Lovehappenshere #gay #soho #london #love #party pic.twitter.com/iZ6mRWLpY3

— Comptons Of Soho (@granddameofsoho) July 9, 2017
Comptons is a relaxed gay pub which typically caters to an older crowd, but there's usually a mix of ages. Comptons has been around for a long time and there's a reason for that. The horseshoe bar downstairs is lively and hosts DJs and music nights, but upstairs the lounge bar is a little more relaxed. The staff are friendly and while the drinks are a little expensive, you're bound to have a good time.
Freedom Bar
Fabulous night with @KT_Hurt13 @lauraoakesmusic @lisawrightuk @sonialeigh @freedombarsoho Songwriters round. So much talent! 👏👏👏 pic.twitter.com/0rmtIa8aQI

— Keith Bache (@KeithBache) July 4, 2017
Freedom presents itself as a stylish and sophisticated gay bar, and is popular with performers. It's a real mix of atmospheres, from chandeliers and booths upstairs to the poles and strobe lights downstairs. The atmosphere really livens up at night, so it's a great place to start slow and see where the night takes you.
---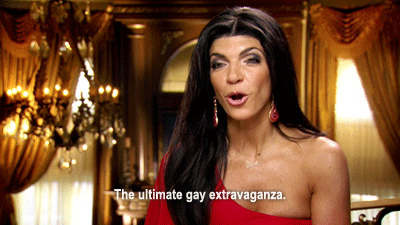 There's so many brilliant gay bars in London, make sure to check out the app for more.
After a night at one of these clubs, you'll probably be suffering. Don't let it hold you back though, because we know 6 foods that scientists reckon can cure a hangover!