Have you ever met anyone who doesn't like Mojitos? We haven't, but even the most hardcore of Mojito fans must get bored of the beverage eventually (right?). Well, we have the perfect solution. Check out these summer-y twists on the classic and much loved cocktail. Trust us, you'll love them.
Lavender drink💞 pic.twitter.com/kMLMx2QeqI

— Valerie Kubušová (@valeriekubus) July 22, 2017
First up, here's one for the classier drinkers out there. We can't think of anyone who wouldn't be impressed by this lavender Mojito, or anyone who wouldn't love it, to be honest. Garnish is usually optional, but it looks seriously good on this cocktail, so we're making it mandatory.
This is a seriously seriously yummy take on the twisted Mojito. It's light, but as Mary points out, it's not too sweet (better for the hangovers). This one involves quite a bit of effort, but we promise, it'll be worth it!
We love a Mojito as much as anyone else, but we can't deny, there's a lot of sugar in these. If you're looking to cut down for whatever reason, but still want a lovely cocktail in the sun,  than Laurenda Bennett's Skinny Mint Mojito will make your day. The best part isn't that it's only 72 calories. The best part is that it's fresh, delicious and perfect for a sunny Friday evening.  
Whip this out at a party and we promise – you'll be the most popular person in the room. This minty mango-y twist really really works, but make sure the Mangos you go for are really ripe. British fruit can be a little hit and miss.
This recipe works well with rum and cherry vodka. Make sure you leave a bit of time for this one, but again, it's definitely worth it. Get ready to pop some cherries and have a good time.
---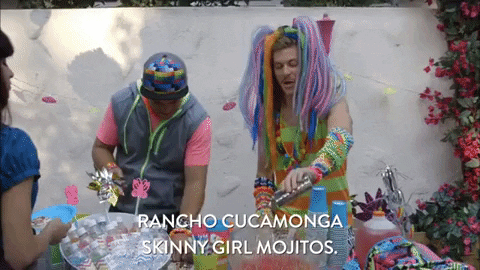 Hit us up if there's any we should have included. We're always looking for new ways to up our pre-drink game.
If you don't fancy mojitos tonight, why not try some cool twists on the classic gin and tonic instead?
Don't forget to check Nightset app for the best parties in London!